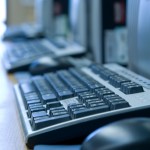 The developer of CULA, EM Photonics, offers CUDA training classes for those with any experience level of GPU programming.
Our standard two-day training program is ideal for those who are just getting started with GPUs. In most cases, classes are delivered on site at a date and time that is most convenient for our clients. For companies or individuals interested in learning how to program specific applications on CUDA, we offer modular classes that can be tailored to match previous GPU experience and area of interest.
Download our CUDA Training flyer or visit the EM Photonics CUDA Training page for more information.