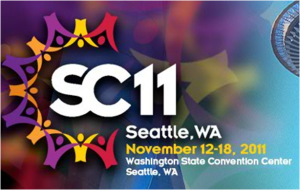 If you're going to the upcoming SuperComputing conference in Seattle, you'll have the opportunity to attend John Humphrey's presentation on CULA . John's talk this year will focus on the new product features, including Sparse solvers and the zero-effort Link Interface for instant acceleration.  He will show how easy it is to use the link interface with MATLAB, and will also share examples of how users are taking advantage of the new feature.
What: Exhibitor Forums: Advances in the CULA Linear Algebra Library
When: Tuesday, 11/15
Where: 613/614
If you can't make it to John's presentation, stop by our EM Photonics booth (#244) to meet the entire CULA team, myself included.  Finding us may be tricky this year, so you may want to check out the exhibitor map online first.  Hope to see you there!