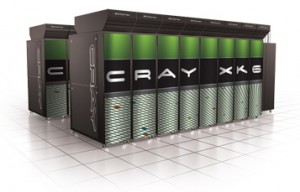 Michael Feldman from HPCWire wrote a very interesting piece on CRAY's first GPU Supercomputer - the XK6, a pretty impressive system that combines AMD X86 processors with NVIDIA GPUs.  In fact, the news is being covered by all major media outlets and you may have already read about it either directly from CRAY or your favorite news site.
We enjoyed reading Feldman's coverage of the story because he mentioned some details in addition to the information provided by CRAY on their May 24 press release. One of the details he mentioned was about CRAY's plans to offer third-party GPU software libraries like CULA:
"Cray also will be developing additional GPU compilers, runtime libraries, and tools, as well as bringing in third-party software, such as EM Photonics' CULA library, to make the environment richer and more productive. The idea here is to bring GPU acceleration in line with its Adaptive Supercomputing approach. The ultimate goal is to be able to write source code that could automatically be transformed to run on either CPUs, GPUs or some mix of the two. The goal is not just to deliver performance, says (Barry) Bolding, but to "get your codes to better performance faster."
Read HPCWire's full story and feel fee to ask us any questions that you may have.