We will have a lot more to say about CULA 2.2 at GTC and immediately thereafter, but for the moment we wanted to share some of the latest performance on the very important DGETRF (that is: double precision LU decomposition) routine from CULA Premium.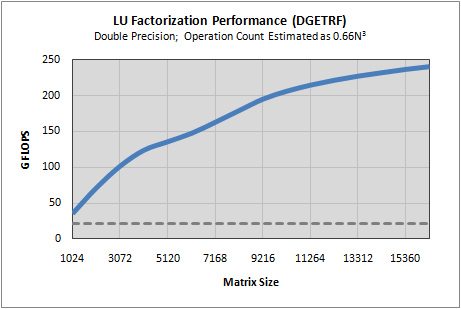 In this graph, the dashed gray line represents the performance of an Intel Core i7 920 chip with Intel MKL 10.2, which performs pretty consistently across the problem sizes. The blue line is the same machine, equipped with a Tesla (Fermi) C2050 card, running the new CULA 2.2 Preview. These numbers far exceed what has been seen before, even prior versions of CULA!
Expect many more speedups of this nature from CULA 2.2, which will be released in the weeks following GTC 2010. For those coming to GTC, please be sure to check out our session, number 2153.