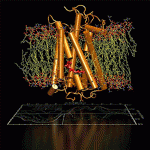 Are you working with AMBER, NAMD or GROMACS? If yes, you may want to take a look at this limited time opportunity to simulate your molecule file using a Tesla GPU at no cost to you!
We heard it from PSSC Labs, one of the first HPC vendors to become a CULA Channel Partner. This is a very cool initiative led by NVIDIA. As we understand, anyone using AMBER, NAMD or CROMACS can basically register and test out NVIDIA's Tesla GPUs, which claim to be capable of 10X or more speed ups for these molecular dynamic applications.
If you are interested, you can register through PSSC Labs and you can also email any questions about this GPU test drive to 4sales@pssclabs.com.