Hot off the heels of a 1.3a service release, we've got some brand new information on the future directions of CULA.  Today we'll be talking about Fermi, NVIDIA's next-generation GPU architecture that was announced in September at the GPU Technology Conference.  At that time, we shared our thoughts on the new and exciting performance we hoped Fermi would bring.  After 6 months of anticipation, we're very proud today to debut the first performance results for CULA running on Fermi.  To our knowledge, these results are the first published double-precision performance results for Fermi running real-world code.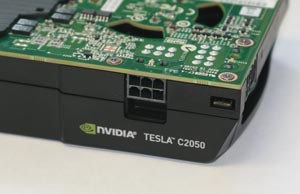 As NVIDIA discussed at Fermi's unveiling, their next-generation part brings an increase in double-precision performance.  When we received our Fermi based Tesla C2050, we didn't hesitate to port CULA to the new platform.  All that was required to get CULA up and running on Fermi was to set a few compiler flags for the SM 2.0 model, upgrade our graphics driver, and make a few small code changes for the new architecture (more on this in a later post).  Once that was done, we ran through our publicly available benchmark suite to bring you the numbers you see below: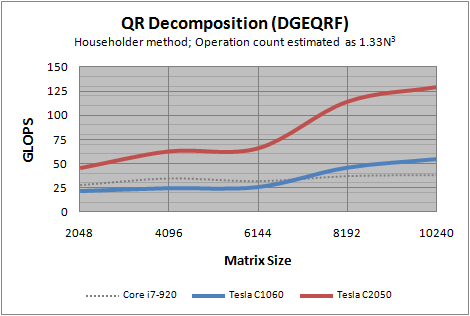 As you can see, Fermi is no slouch!  We're reporting performance gains for doubles up to 3x over the previous generation of Tesla GPUs.  It's also very important to note that these gains are achieved with no Fermi-specific optimizations added -- these are practically plug-and-play performance enhancements.  We have every expectation that with a little time and effort we can improve significantly upon these already impressive numbers.
Well, there you have it.  Fermi is here and NVIDIA has delivered considerable double-precision gains.  We'll be releasing a Fermi-enabled version of CULA very soon so check back often for the latest and greatest in GPU computation.  Until then, enjoy these graphs and get your systems prepared for CULA 2.0 and this must-have hardware upgrade.  As an aside, for those of you wondering why we haven't released a Fermi-supporting version of CULA just yet, it is important to note that there is much more to a release than just code or compiler flags, including: upgrading all of our builders to CUDA 3.0, updating packaging scripts, testing across all operating systems, etc.