Hi, everyone!
Today I wanted to discuss NVIDIA's GPU Technology Conference (GTC) that was held back in September. I know that a few weeks have passed since the event, but we've been so busy working on CULA that we haven't quite had the time to write about it! At GTC, the CULA team officially released CULA 1.0. For any of you that were there, I think we can agree that it was a great show. Thank you to any of you that stopped by our booth, we're always excited to meet people using CULA.
While at the show, the CULA team also had the chance to meet with many of our collaborators at NVIDIA. It was great to finally put a face to many of the people we have worked with over the past year. For those of you who weren't there, you missed out on some great CULA Cakes!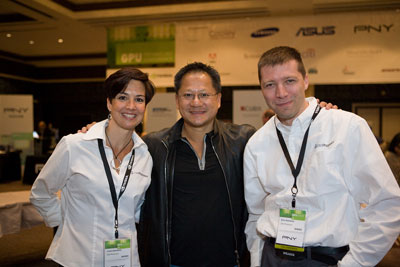 We got a lot of great feedback from the show, and we're excited to be incorporating that feedback into CULA as we look beyond 1.0. Over the next few posts we'll be talking about some of that feedback and how it influenced many of the features that you'll find in CULA 1.1. We'll also be talking about the next generation GPU architecture NVIDIA's announced at GTC and how it will benefit CULA. Until then, thanks for reading and check back soon!